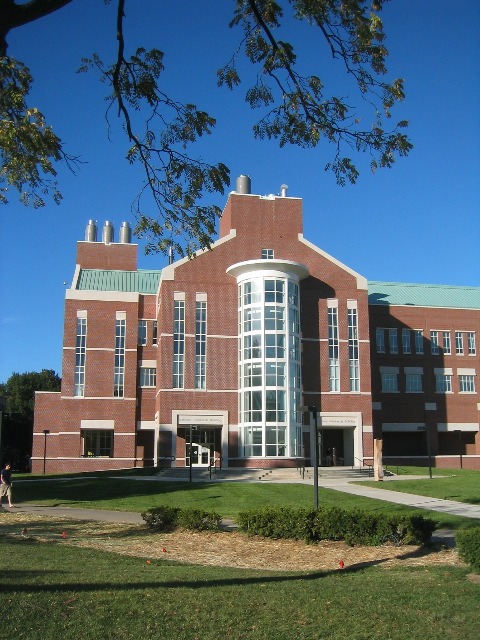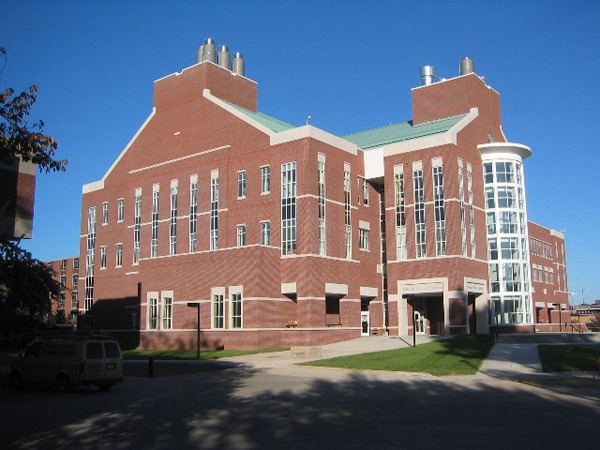 This building includes variable air volume systems for laboratory supply and exhaust systems and constant volume systems for the 10,000 square-foot clean room. The clean room space ranged from Class 10,000 in the dressing rooms to Class 100 in the Litho Area. Due to the outside air requirements, the building uses a large amount of steam and chilled water and includes an energy recovery system.
The building's electrical system was also designed with safety in mind. The service entrance has two primary circuits with manual switching and double-ended substations for reliability on both the 480-volt and 120-volt services. The building is also equipped with a diesel-powered emergency generator which supplies life safety loads such as egress lighting and fume hood fans to keep the hoods under negative pressure during power outages. In addition to the fume hood, the entire clean room is connected to emergency power, including the supply fans and building boiler and chiller. In addition to HVAC, plumbing, and fire protection, the building system design included a fire alarm system, horizontal communication pathways, risers, telecommunication rooms layout, workstation communication outlet rough-in, clock system, lighting controls, door security system rough-in and Transient Voltage Surge Suppressor for building power distribution. Communication cabling and devices were also included.
Because of the size of this project, KFI inputted the entire chilled water piping system and modeled the existing and new flow conditions. With this model, KFI could determine where high-pressure areas were and design economic modifications to the system to allow for the required capacity without affecting the remaining campus.